Overview of the program
The BPRI lab swap research program aims to provide funding for interdisciplinary research for BPRI graduate trainees. Specifically, funds will be provided for projects related to the ten key BPRI research areas. Trainees can propose an individual or group project that achieves one of the following:
Learn new methods and core concepts that benefit future career and research interests.
Advance ongoing research activities through collaborative research at other BPRI institutions.
Collaborate with BPRI institutional members/trainees to develop an integrative project.
The lab swap program also provides the opportunity for all BPRI graduate students to enhance their research and project management skills. The BPRI strongly encourages all graduate trainees to apply for this program even though participation is not mandatory. Collaborative group projects engaging other trainees are also possible. Collaborative grants will receive additional support.
Eligibility
Proposals will only be considered for the following trainees:
Graduate students who identify as a BPRI trainee as described in the BPRI Memorandum of Understanding (MOU).
If the project has interdisciplinary training activities that require spending substantial time outside of the primary institution, BPRI trainees must ensure that their interdisciplinary training activities do not interrupt the requirements associated with their degree plans.
Trainees are only eligible to receive lab swap funds once. However, they can be engaged in proposed research activities as a collaborator.
Proposal guide and more information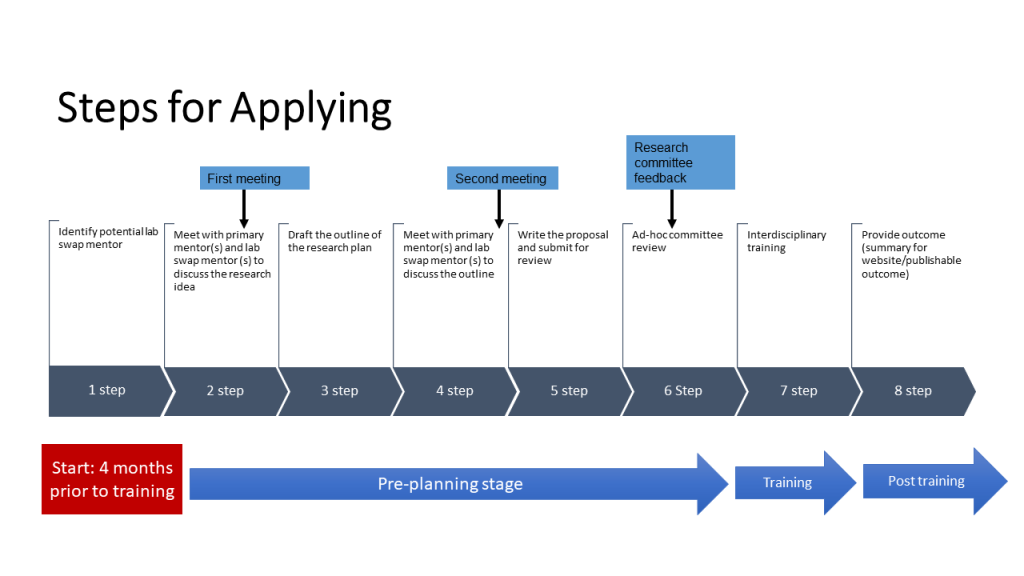 ---
BPRI provided interdisciplinary research experience to a graduate student from Southern Illinois University Edwardsville.
Alexis Acoff, a graduate student at Southern Illinois University Edwardsville completed her BPRI lab swap program at Texas A&M University.  She spent nearly two months at Texas A&M University and was co-mentored by Dr. Brittany Peterson, Prof. Spence Behmer, and Dr. Maeva Techer. During her stay, she got the opportunity to work with BPRI locust colonies and advance her research on examining possible associations between gut bacteria with locust gregarious behavior. Alexis describes her experience; "My lab swap was the highlight of my graduate experience so far." She noted that working with different lab groups pushed her out of her comfort zone in research. The experience helped her to identify her disciplinary competence in her major field and her abilities to work independently and collaboratively with diverse research groups. She encourages her fellow students saying, "I'm so grateful for the opportunity and would recommend interdisciplinary work to any and every student in research."

Learn more about Alexis's research work
Drivers or passengers: What impact do gut bacteria have on the behavior of Schistocerca gregaria?
Locusts undergo solitarious-to-gregarious phase change, allowing them to swarm and cause plagues resulting in immense destruction. The mechanisms driving phase change are complex with visual, tactile, dietary, and olfactory cues playing roles. In other animals, gut microbiota impact their host's diet preference, response to environmental cues, and mate finding. Thus, it is plausible that the gut microbiota play a role in locusts' phase change. For my lab swap project, my primary objective was to investigate the role of gut bacteria have on Schistocerca gregaria behavior. To do this, I fed S. gregaria nymphs antibiotic-treated wheat grass throughout their development. Then in the 4th instar, I assessed the behavior of these antibiotic-treated locusts compared to a control group fed water-treated wheat grass. Then I dissected the guts of these locusts to determine the impact the treatment had on the gut bacterial community. Using this method, I aim to identify key bacteria that may be associated with locust gregarious behavior. While running this experiment, I collected the feces and dissected the guts of lab-reared final instar nymphs for S. americana, S. cubense, S. picefierons, S. gregaria black, and wildtype S. gregaria species. These samples will be used for gut-to-feces microbiota comparison and species-to-species microbiome comparison.
BPRI Lab Swap is an interdisciplinary research training funded by National Science Foundation project 2021795.