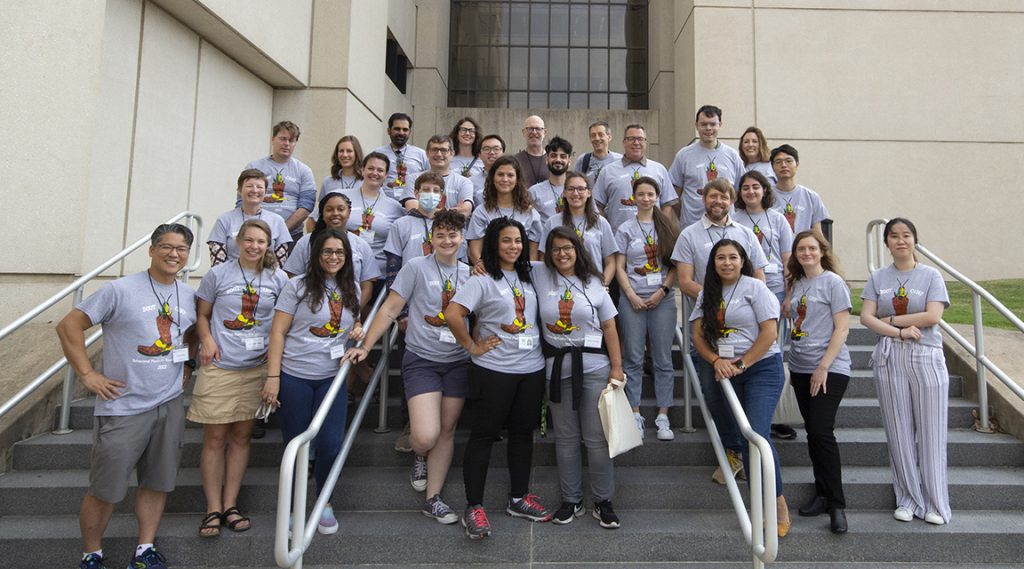 Event Overview
The BPRI Bootcamp is a two-day in-person event that was held at the Texas A&M University in College Station, Texas on May 20-21, 2022.
The aims of this event were: 
1) To interact with others in ways that build a better understanding of others' backgrounds, interests, concerns, and priorities related to the BPRI project.
2) To identify integrative research or collaborative projects ideas to cultivate meaningful relationships
3) To review BPRI progress and identify future directions
An event summary outlining the main discussion points will be available after the event.
Program Guide
PDF version of the detailed program guide can be downloaded from here.
Event Venue
The main session and breakout sessions were held at Minnie Belle Heep Center (Building 1502), Department of Entomology, 370 Olsen Bl, College Station, TX 77843.
If you are taking a taxi or Uber, please note the street address "370 Olsen Bl." There is another building called Heep Laboratory Building (HLB) which is a bit far away from the Heep Center.
Sessions Venue
The main session was held at the HPCT 103. 
Coffee breaks were held at HPCT Atrium. 
Lunch was held at HPCT Atrium and HPCT 413 and 421.
Breakout sessions were held in HPCT 103, 205, 207, 413 and 421.
Accommodations
There are several options available around the campus. However, we have reserved a block of rooms for the BPRI Bootcamp at the following two hotels. At the check-in, be sure to identify yourself as a BPRI conference or TAMU Entomology participant to receive the discounted rate.
Address: 320 Texas Ave S, College Station, TX 77840 Tel: (979) 846-0184
3-star hotel;
The BPRI conference rate is $94 (including breakfast);
7 minutes drive (1.8 miles) or 35 minutes workout to the event venue.
Use the custom reservation link to get the BPRI conference room rate. Reservations must be made by May 5, 2022: https://www.hilton.com/en/attend-my-event/clltehx-bpr-b2b70b24-88cb-4095-9696-717fcaa2bba7/
Address: 177 Joe Routt Blvd, College Station, TX 77840 Tel: (888) 654-4436
4-start hotel;
The BPRI block price is $139 (without breakfast, including parking);
2 minutes drive (0.5 miles) or 8 minutes walk to the event venue.
This venue allows self-parking on Gene Stallings Blvd. No need for parking at the event venue. The hotel is located very close to the venue.
Use the custom reservation link to get the BPRI conference room rate. Reservations must be made by April 19, 2022: TAMU Entomology
Meals
Organizers have arranged the following meals for all attendees during the Bootcamp. Participants are not required to pay for these meals.
20th May- light breakfast, lunch, coffee, and dinner;
21st May- light breakfast, lunch. and coffee.
Travel
If you are attending in person, the suggested travel plan is to arrive in College Station on May 19th (Thursday) and depart in the evening of May 22nd (Saturday) or in the morning of May 23rd (Sunday).
For those traveling by plane, there are two options.
The first option (cheaper): Travel to George Bush International Airport (IAH) in Houston, then take a shuttle (rent a car, or arrange a pickup) to College Station (90 miles).

Ground shuttle service is available from George Bush International Airport to College Station. The cost is $50 one way. Note that the shuttle schedule varies from weekdays to weekends. An additional $12 will be charged if you request pick up/drop off from the hotel. More information and the shuttle schedule can be found the Ground Shuttle Website.
If you are traveling as a group, you can use the Aggie Express Cab Taxi Service. The starting rate is $240. More information can be found on this website.
An alternative option is to travel with a BCM colleague to College Station. If you prefer this option, you are requested to share your flight information by the 15th of May 2022.
The second option (more expensive): Travel to Easterwood Airport (CLL) in College Station using a connecting flight (American Airlines) via the Dallas Ft. Worth Airport (DFW). The campus is only a 5-minute drive from the Easterwood Airport. The TAMU BPRI team will provide a pick up for you. Alternatively, you can take a taxi from Easterwood airport to the hotel.
Parking
If you are driving from Houston, you are required to purchase pre-paid visitor permits (daily rate $10, and weekly rate $25) to park at the event venue. More information is available at https://transport.tamu.edu/Parking/visitor.aspx. If you are staying at the Texas A&M Hotel and Conference Center, your parking is already included with the stay.
The following are the closest paid parking lots to the venue. However, if you need a parking permit very close to the venue, please let us know at least one week before the event.
Lot 74 (36 paid parking spots are available)
Lot 61 (18 paid parking spots available)
West campus parking;
Lot 72a and Lot 72b